Astronomer never lost sense of wonder

08/11/04
by Bob Allen
Respond to this story
Email this story to a friend


William P. Blair, a Towson resident and chief of observatory operations for the Far Ultraviolet Specroscopic Explorer project, sits by a computer-generated map of the world.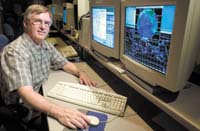 From a boy gazing through a 4-inch backyard telescope in Michigan to his current position as astrophysicist and chief of observatory operations for Johns Hopkins University's satellite-based Far Ultraviolet Spectroscopic Explorer project, Dr. William P. Blair has never lost his sense of wonder.

"I have a very strong feeling that God wanted me to be an astronomer," Blair, 51, a Loch Raven Village resident, mused as he sat in his office at Hopkins' Bloomberg Center for Physics and Astronomy.

His surroundings are adorned with astronomical posters, photographs and spectrographic images of distant nebulae and a framed New York Times front page on the first moon landing.

"Some people can look at the spirals of our galaxy and not see the hand of God, but I beg to differ," added Blair, an affable man who is as comfortable sharing his astrophysical knowledge of the chemical composition of interstellar space with neighborhood children or fellow members of Babcock Presbyterian Church as he is with his multi-degreed peers at Hopkins, NASA and elsewhere.

"That's the great thing about astronomy," the father of two said. "You can enjoy it from the level of just going out at night and gazing at the sky all the way up to this level."

Blair's eight-year involvement with the $108 million project, initiated and financed by NASA then handed off to Hopkins, has allowed him a specialized outlet for his awe at the mysteries of the universe.

The powerful spectrographic telescopic, mounted on a satellite orbiting 475 miles above Earth for five years, analyzes light from a narrow band of the ultraviolet spectrum that is undetectable to other telescopes, including the Hubble, and invisible to the human eye.

Blair calls this narrow band "a very interesting piece of the light spectrum."

This low-frequency light, he added, is captured by a spectrometer sensitive enough to analyze light from stars 5,000 to 10,000 times fainter than those visible in the night sky.

This band of light is studied to determine the chemical composition of distant supernovae, quasars, nebulae, binary stars and other stars that emit such frequencies.

The study can also reveal the chemical composition of the dust the light travels through before reaching the spectrograph.

By analyzing these ultraviolet light samples, scientists get a clearer understanding of how the universe and its components were created and how they're evolving.

Blair says this spectrometer is 10,000 times more light-sensitive than earlier satellite mounted models, including Hopkins' Ultraviolet Telescope project, which Blair worked on.

His current project "has really opened up distant galaxies and quasars that are hundreds of billions of miles away," he said.

"You can look at stars and galaxies that are forming or just formed and understand how the planets were formed around them."

To get the "big picture" requires observing stars with a number of light spectra, Blair said.

His research specialty, "supernova remnants and shock waves," means, in layman's terms, analyzing the composition and impact of the dust, gas and energy released when stars explode (supernovae) or implode (white dwarfs).

Asked if any single discovery from the project stands out, he falls silent. Then his eyes brighten.

"We found a very hot, very low-density corona that is tantamount to finding another component of our galaxy that we didn't know was there before and was certainly not predicted," he said.

"Think of our galaxy as a big CD-Rom of gas and dust and stars," Blair added, drawing a diagram in the air. "Up and down (from the top and bottom) of the CD-Rom is the gaseous halo of our galaxy.

"As we started looking out at the universe and seeing quasars, we were also seeing material in what we call the corona of the galaxy, which is outside the halo." Scientists had previously assumed the corona was devoid of matter.

This discovery and subsequent observations gave a tiny bit more insight into abiding astrophysical questions such as:

>How and why are various chemical elements dispersed through the universe as they are?

>What is the chemical makeup of the dust and gas clouds that give birth to solar systems and stars?

Despite practicing a science deciphered in mysterious-sounding measurements such as angstroms, arc seconds and emission lines, Blair maintains the sense of wonder that first led him to gaze into the night sky.

This makes it fun for him to come down from the clouds and explain such mysteries to neighborhood kids who gather for his backyard telescope parties and the church groups that sometimes invite him to update discoveries in his field.

He's even been known to use a roll of toilet paper to illustrate the incomprehensible expanses of time and space that are in play when talking about the known universe.

He's apt to unroll the toilet paper and assign a value of 10,000 years to each sheet.

"At that rate, it would take you 500 rolls of toilet paper, end to end, to get back billions of years to when the Milky Way and the 100 million stars in it were formed," he said with a grin.

Blair is also a bit of a ham. He even composed a song set to the familiar melody of "As Time Goes By," called "As FUSE Goes By."

He debuted at the original FUSE satellite launch in 1996. Last month, in a thin but passable baritone, he enthusiastically crooned it a cappella for an audience of about 50 friends and fellow workers at a fifth anniversary celebration of the launch.

As his technical understanding of the universe has deepened over his two decades at Hopkins, Blair's faith has too.

"I personally have not had a great conflict between my faith and my science," he said, staring pensively at a photographic enlargement. "I choose to look at the places where they work together."

And that, he adds, is something many people can relate to.

"I think people have an appreciation of God's creation," he said. "I think they are also starting to have an appreciation of the research that it has taken us to get to the understanding that we now have of the universe."